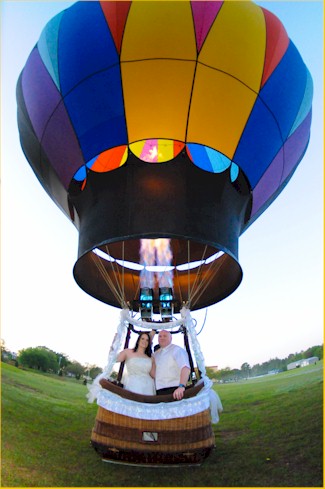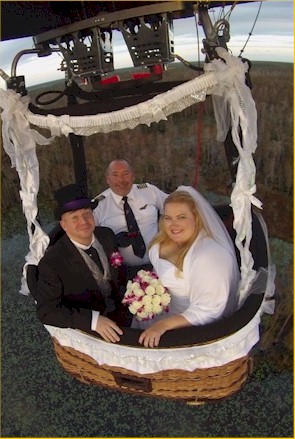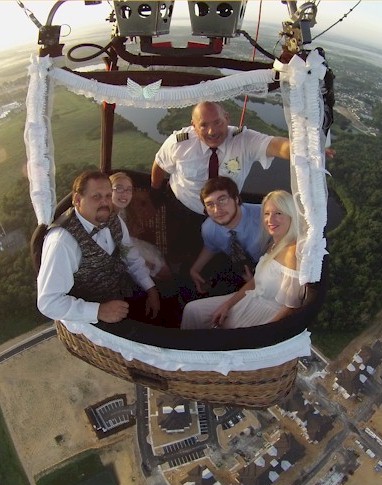 Weddings
Standard Wedding
$900.00
Standard wedding package includes
Flight for two (Bride and Groom)
Wedding Cake for Bride and Groom
Breakfast for up to 6 people
Photo in-flight posted to website for family to view that day.
Ceremony fees
One hour flight.
Champagne ceremony
Complimentary photograph taken in flight and available for download.
First Flight Certificates for both bride and groom.
Choice of ceremony done on the ground prior to launch or in the air during flight.
Go-Pro Video on board the balloon for airborne ceremonies.
Additional options
Two additional passengers in the balloon. $400
Four additional passengers in the balloon $700
All raw video from flight $50
Video production with music $125.00
All raw Video and a Video production with music $160.00
Flowers for Bride and groom  $300
Professional photographer  $325
We are very fortunate to have Gina Thompson as our photographer.  She has been around balloons for nearly a decade and knows exactly where and when the best shots will take place.  She puts great effort into all her shoots.  You can see samples of her work on her website by clicking the link below.
Special notes:
You may dress in any wedding fashion you may wish but please remember that we will expect you to climb in and out of the balloon basket.  We will also be walking around out in open pastures and hay fields.  Your ability to walk should not be encumbered.  Balloon flights are weather permitting.  We will not fly if the weather conditions are unsafe.  It is recommended that you have at least one backup day planned.  In the state of Florida you must have a marriage license.  You may go to the Kissimmee courthouse to get your license.  We can not perform a wedding if you do not have the license.
O and BTW Congrats!
Jeff
Mr. & Mrs. Michael Sheridan
Jacksonville  FL USA
Yes I have flown with you!
 We had an absolute blast!! All the pilots had a great sense of humor and southern hospitality. We had our wedding ceremony while in the air for sunrise. Capt. Jeff timed it perfectly, and made us feel very comfortable. Couldn't have asked for a better flight or wedding!!
Stuart & Ann Taylor
Falkirk FK Scotland
Words simply do not do justice. A MUST DO!
Wow Wow Wow...& WOW!!
Just to say many thanks to Capt. Jeff and all his crew, not just for marrying us , but for giving us such perfect memories of a fantastic day. Keep up the good work guys hope to see you all again soon Regards Stuart & Ann Taylor
Sherrill & Leon Duberry
Peterborough UK England
Yes I have flown with you!
Has to be one of the top ten things in my life!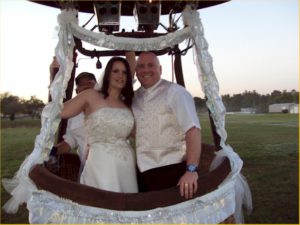 What an AMAZING day. A big BIG thank you to Captain Jeff and his team for making our wedding day extra special. Everyone was so friendly and lovely and the control Captain Jeff has over the balloon is outstanding! (Much better than his jokes lol 😉 ) We feel very lucky that we chose Thompsonaire for our first balloon flight and to carry out our marriage ceremony. We cannot recommend these guys enough!!
Hi Jeff & team
 Just a message to thank you all for our wonderful wedding flight on 08 March, we have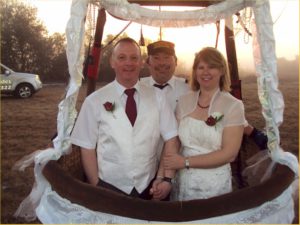 come home with so many happy memories and beautiful photos from Gina. We think you and your crew are all amazing and we had a brilliant time, we can't thank you enough for making our day special.  We hope to fly with you some time again maybe for our wedding anniversary some time!! (You'll probably have a set of new jokes by then !!!)  Thanks once again we'll never forget it!
 Colin & Shirley Whittaker