Wedding Proposals

One of our greatest pleasures is getting to be part of a wedding proposal.  It is a special day for both the future bride and groom as well as their families.  Over the years we have seen many many ways to propose.  We have seen the silly to the extravagant but out of all of them the best way we have seen is the way we suggest to do it.
First of all this is a very special day and we understand how nervous you can be as well as how worried you can get that it goes off perfect.  Trust us,  we will make it perfect!
One of the things we strongly suggest is, get a private balloon.  We know it costs a little bit more but we guarantee it is worth it.  Best of all you will have enough room in the basket to get down on one knee and do it right!
Here is how it works.
We will have a banner made up that will say,  WILL YOU MARRY ME "her name"
We will treat the morning just like any other one.  You will participate with the other passengers in our normal pre-flight briefing.  We will then go out to the launch site for the day and inflate the balloons.  You will have your own private balloon.  Our ground crew will have the banner in the van.  Your pilot will discreetly position the ground team on a road out in front of our flight path.

During the flight we will pretend that the radio has malfunctioned and the ground team is trying to tell us something.  We will ask that you help to spot the crew and figure out what it is they are trying to tell us.  Of course you will know exactly what is coming and have time to get out the ring and be ready to take a knee.
The pilot will fly the balloon down to a couple hundred feet right over the ground crew.  The Ground Team will open up the banner as we pass over where it can easily be read.  Of course your sweetheart will be looking for the crew and once spotted will see the big banner asking "WILL YOU MARRY ME".
At this time they will turn around to find U.
You of course will be ready!  On one knee with the ring out!  She will never see it coming!  I promise the look on her face will be absolutely PRICELESS!
After the flight it is customary for all the pilots and crew and other passengers on that day to sign your banner so you will have a wonderful souvenir of your special day and all the people involved.
You may schedule a private proposal flight online by clicking this link. Private Proposal Flight   Once you have scheduled your private flight you will receive an email confirmation.  That is all there is to it.  Now just try to relax and sit back and we will take care of the rest.

Here is what you are looking at for cost.

Private Balloon $595.00 plus tax.  Banner $80.00 plus tax.

The best  "Deer in the Headlight"  look you will ever see on her face!!!!!!

Priceless....
Below are actual emails sent to us from some of our past proposal couples.  We promise you will feel the same way and we will make your proposal something you will tell the grand kids!
"Jeff A Thompson"
Derek & Alejandra
Orlando FL USA
These are true professionals and they love what they do!
What a GREAT experience!!! I chose Thompson Aire when I decided to

propose to my girlfriend because they had a proposal package that no other balloon company was offering. We've always wanted to go on a flight... So, on her birthday, I drove her to the meeting site and surprised her with a hot air balloon ride; she was so excited! Little did she know, I was going to propose :). Capt. Jeff was our pilot that morning; he was very entertaining and knowledgeable; GREAT JOKES too!. Capt. McCourt was serving as the balloon "chase/g round crew" who was secretly transporting my parents and my girlfriends two sons to a secret spot... About 30 minutes into the flight, Capt. Jeff began to pretend the radio wasn't working properly, and said he needed to get closer to the ground to receive a message from the ground crew. As soon as we flew over the dense portion of trees, there stood the ground crew with a sign "Will you Marry me?"; when she turned around, there I was on one knee with her ring. She was both shocked and blown away! She said YES :). We later landed for a champagne toast and a breakfast buffet. These guys are true professionals; they pulled everything off perfectly! I'm glad I booked my flight with them and will recommend them to anyone seeking a balloon flight; it is an experience we will never forget! Thanks again Capt. Jeff and McCourt; you guys are awesome and make a great team!!!
Holly & Adam
Orlando Florida US
Wow Wow Wow...& WOW!!

On September 10, 2011 I was woken up by my boyfriend at 4am for a "surprise". I had no idea where we were going but in my head all I wanted to do was go back to bed, that was until I found out what we were doing. We pulled up to the place where you load into the Thompson Aire vans and I was EXTREMELY excited!!! We went in and everyone was sooooo nice to us. We got in the hot air balloon and the only word to describe it is, WOW! It is unlike anything me or my boyfriend had ever done. We were in the air and Jeff started talking on the radio and acting like he couldn't hear the people. We began to go closer to the ground so we could "get signal". At this point I had NO idea what was going on. When we got closer to the ground I saw a sign that said "WILL YOU MARRY ME HOLLY". I burst into tears when I saw him down on one knee. It was the PERFECT proposal!!!!!!! Being on the hot air balloon was incredible enough and then to get engaged, words cannot describe how amazing it was! All of the employees were congratulating us and everyone was so nice! It was definitely the BEST day of my entire life!!! We will definitely be going again some day soon and we would recommed Thompson Aire to anyone!
Thank you Thompson Aire for everything!
-Holly & Adam
Brandon & Alex
Orlando Fl United States
Words simply do not do justice. A MUST DO!
Yes I have flown with you!
Dec 8 2011



My girlfriend... sorry, my FIANCE Alex had always dreamed of going on a hot air balloon ride. I never forgot when she told me that so for our 2 year anniversary which also happened to be her Birthday I decided to make her dreams come true. I knew it would be fun, but it was beyond that by a long shot. There is no other experience like it in the world and no better way I could have proposed. It is a wonderful memory we will share forever. The peaceful serenity up there is quite literally out of this world. The Captain Jeff, was an amazing pilot and I learned a ton. His true passion for flying the balloons made the experience like none other. But don't take my word for it, check out out proposal video to see for yourself. Thank you so much Thompson Aire! http://vimeo.com/33743592
Brandon & Alex
Lee Dobson
 Oakland Florida US
 Yes I have flown with you!

Well what can I say other than WOW!!! This whole experience was Amazing! I

couldn't have dreamed of a better way to propose! The TA crew made everything go soo smoothly, all I had to do was show up and everything else was taken care of. Our Capt. Jeff brought the balloon right down along the edge of a lake, where the ground crew was already positioned with the banner that said Kara will you marry me. It couldn't have gone any better. Capt. Jeff and the whole ground crew did an Exceptional job, they made our engagement a day we will never forget. Like Capt. Jeff told us there is no better look than the Deer in the Headlights look you will get when she reads the banner and turns around to find you on one knee. If you're thinking about proposing to your girlfriend, I promise there is no better way than in a hot air balloon with Thompson Aire!!!
David Lopez Jr
Dayton  TX US
Wow Wow Wow...& WOW!!

The experience was awesome, especially since it was my first time doing this sort of thing. You guys did an amazing job with the proposal to my now Fianc

e Eleana:) The banner was excellent, and in fact, we will be using the banner as our guestbook for our wedding! Then we will get a nice frame and hang it in our home:) That with the signatures from the crew and the other guests that were present on the day of the flight, will be an awesome story to tell our children in the future. Thank you so much:)
Vincent Hreso
 Tamarac Florida USA
 I would do it again tomorrow..

 After looking all over for the perfect balloon company for my marriage proposal I found TA. I read the entire site and googled the company and found nothing but positive things about it.

From start to finish TA met and exceeded my expectations. Capt. Jeff and the whole ground crew were very helpful and made a very stressful proposal very easy. The balloon ride itself was amazing. Words cant describe the experience. The whole morning was like something out of a fairytale, from floating above the clouds and fog to watching a beautiful sunrise. I will definitely be back for my anniversary. Thanks for an amazing day! Oh I almost forgot, thanks for the corny jokes too. LOL
James Smith and Eugenia Racioppa
Utica NY United States
Yes I have flown with you!
I would recommend this company to anyone who would like to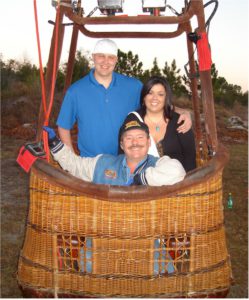 experience the amazing feeling to riding in a hot air balloon. Not only did I do something that I have been wanting to do my entire life; my boyfriend proposed during our flight! Thompson Aire did a wonderful job and certainly helped make one of the most important days in my life memorable. Thank You! I will NEVER forget it!
Eugenia Racioppa (Soon to be Smith) and James Smith
Mike Metz and Michelle Jacobs
Kissimmee / Miami FL USA
 Yes I have flown with you!
 4-18-2009
Jeff, Jon, and the crew,


Thank you so much for the experience. That proposal could not have gone over any better than it did. Both of us told our friends and they all think there is no way to top ours. The flight, the breakfast, and the experience were all outstanding and breathtaking! Thank you so much for making our special day so memorable and so personal! We will never forget this, for as long as we live. Hope to fly with you guys again!
Very Truly Yours,
Mike and Michelle
We actually had two proposals on this same day! 
Weather.
Please keep in mind this is a WEATHER DEPENDENT program.  IT IS ALWAYS POSSIBLE weather will prohibit a flight.  We suggest that the passengers select a date near the beginning of their stay so we may have alternate dates if the weather is bad on the first date.  In the case of a proposal a backup plan or alternate date is a good idea. About Balloon Weather
See you soon and CONGRATS!
Jeff